Man's Best Friend
pop-up studio of Laila Mubarak
18 November 2018, 11 am - 1 pm at Lauwer
One day before International Men's Day exhibiting artist Laila Mubarak sets up her studio at Lauwer. Every man can have his photograph taken together with his best friend (male, female, dog?) on this special Sunday. For a digital portrait the costs are € 25,-, for an analog print of museum quality € 75,-.
Registration by email: info@lauwer.art
The exhibition 'Laila Mubarak - For Who She Is' will be open to visitors today. Check our social media to see the behind the scenes images of Man's Best Friend.
Paul Knight – A Personal Selection: Chamber Music and textile work
exhibition, by invitation only
1 - 20 October 2018 at Lauwer
Especially for invitees of Lauwer Paul Knight (b. 1976, AU) has installed a selection of work. With the photographs from the series 'Chamber Music' (2009-2018) and a number of hand-woven textiles. Paul investigates what is left of intimicy in a copy. Either a personal moment within a photo or under a bedsheet, or the development into something new in its own two-dimensional space.
New neighbour to the Gemeentemuseum Den Haag
1 September 2018
relocation to Stadhouderslaan 9, The Hague
Lauwer found a home in De Stadhouder, just around the corner of the Gemeentemuseum, GEM Museum for Contemporary Art and Museum of Photography The Hague. After the official opening in October Lauwer is open for visits every Wednesday, Friday and Saturday. Only here art is connected to fashion and photography, and as such the gallery stays close to what is encountered every day.
No time during the day? Make an appointment for an evening opening.
WOW Fashion Inside Out
24 June until 31 October 2018
WOW Amsterdam and BoLo, Amsterdam
This event turns fashion inside out with radical alternatives for fast fashion of the big chains. It comprises an exhibition, a series of workshops, apparel swap market, concept store, and fashion show. Commissioned by and in collaboration with WOW Amsterdam. With Eduardo Leon, Lisa Konno, Timna Weber, Het GildeLab, WeMakeThe.City / We Make M-ODE, and others.

Intimately Social 13.15 © Minna Palmqvist, photographer: Ceen Wahren
Fashion Friction
IFFTI, Florence and Fashion Design Hotel ModeZ, Arnhem
For one whole year designers will be the 'key-note speakers' during an array of activities. With their work, prints and in words they would like to emphasize how much more they want than just dress people. The event comprises pop-up exhibitions, interviews, a manifesto, a presentation and publication. Commissioned by the International Foundation of Fashion Technology Institutes (IFFTI), with amongst others Adele Varcoe, Dolci & Kabana, Elisa van Joolen, Lucia Cuba, Minna Palmqvist, ArtEZ Fashion Masters, Fashion Design Hotel ModeZ and Polimoda.
A Glitch in Photography
Universidade do Porto, Portugal
In this project photography gets reinvented. As soon as artists look at the limitations of the camera as a challenge, 'glitches' make room for interaction, chance and play. The project consists of publications and a lecture. Commissioned by Encontros de Fotografia, with Katharina Gaenssler, Rosa Menkman, Spector Books, Universidade do Porto, and others.
Carte Blanche 2010 © Katharina Gaenssler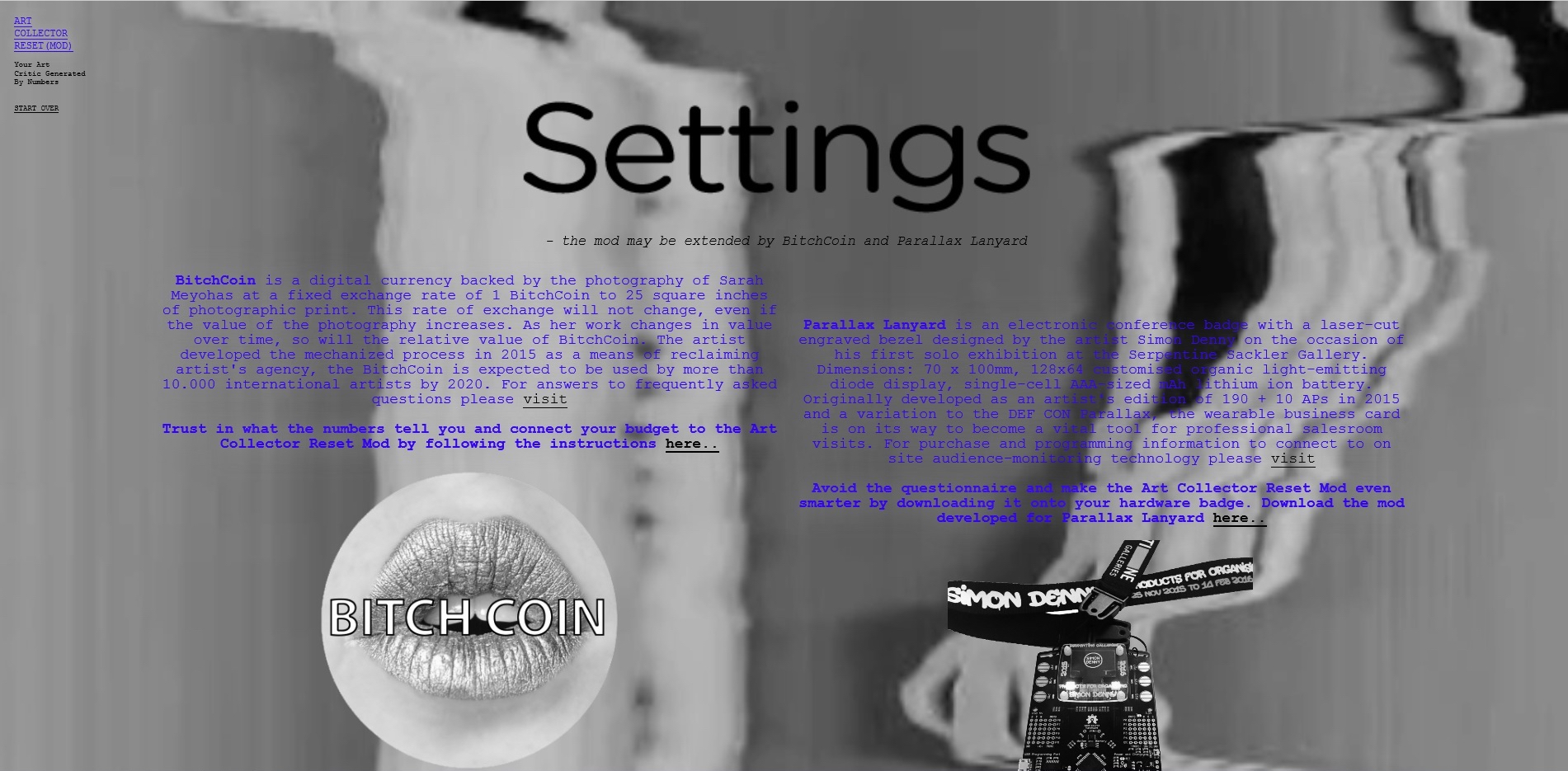 Print screen testing programme Art Collector Reset Mod 2016
Art Collector Reset Mod
Institute of Network Cultures and De Brakke Grond, Amsterdam
What is the art of criticism? In this future vision automatic art criticism turns the role of the collector upside down. With a round table discussion, a testing programme and an online publication. Commissioned by De Kunst van de Kritiek, with Machteld Stoop, De Brakke Grond, Institute of Network Cultures, PublishingLab et al.